Our Principal
---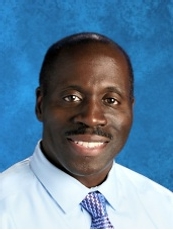 Dr. James G. Murray, Jr. is the principal of our school. He holds a Doctor of Philosophy degree in Educational Technology from Walden University, a Master of Science degree from Cairn University, and a Bachelor of Science degree from the University of Maryland. As a scholar-practitioner, Dr. Murray's work is centered around web-based learning, cognitive-field psychology, neurocognitive instructional strategies, and closing the achievement gap for African American males. He works with schools and districts on the development and implementation of web-based solutions for at-risk students.
A strong advocate of social cognitive, inquiry-based learning, he promotes curricula grounded in backwards design and focused on big ideas, enduring understandings, and the transference of discrete knowledge and skills. As a result, Rowen has enjoyed consistent success, as measured by standardized test scores and other indicators of achievement and growth.
Rowen has several STEM initiatives including a thriving robotics program, coding program, virtual reality program, 3-D printing program, and an innovative science program that introduces upper elementary school students to quantum mechanics. Several of Rowen's students have won first place at the annual Carver Science Fairs in Philadelphia, Pennsylvania.
In 2020, Dr. Murray was awarded the Christian R. and Mary F. Lindback Award for Distinguished Principals. In 2019, Dr. Murray received the Guiding Light in the Community Award for superior community service by the City of Philadelphia. In 2014, Dr. Murray received the Lauretta Woodson Award for Exemplary Leadership from the Pennsylvania Association of School Retirees.
Dr. Murray involves his staff and students in a variety of community service, character development, problem-solving, and technology-infused pursuits that provide them with opportunities to promote positive social change in their communities. He led an effort to reopen Rowen's library after over 15 years of dormancy. He worked with a non-profit partner, community and corporate partners, and a host of volunteers to raise over $25,000 to restock and revitalize the library.
Dr. Murray has partnered with the Young Heroes Outreach Program of the National Liberty Museum to empower students in the areas of leadership, civic engagement, and social justice through critical thinking, inquiry, and project-based learning. As a result of this initiative, students have worked to address problems of bullying, littering, and character development. Dr. Murray has been featured in several promotional videos by the National Liberty Museum. In 2019, he was asked to speak at the Museum's annual banquet.
In 2019, Dr. Murray facilitated a partnership with the Lindy Foundation to design and furnish the schoolyard with new equipment and designs for student play. In 2018, he partnered with Youth Build, Inc., the Philadelphia Phillies, and several corporate partners to design and deploy over 75 murals around the school building on MLK Day of Service.
He is a member of the National Society of Leadership and Success, the National Council of Teachers of Mathematics, the Association for Supervision and Curriculum Development, and the International Society for Technology in Education.
---