Welcome from the Principal
Our school is named after the 19th century Philadelphia entrepreneur who organized the establishment of Penn Treaty Park. The park is located at the intersection of Columbus Avenue and Beach Street.
It is believed that William Penn signed a treaty at that location with Tamanend, chief of the Lenni-Lenape nation of the Delaware Indians, in 1683.
Our school has been servicing the West Oak Lane community of Philadelphia since 1937.
The beautiful Georgian Revival architecture of our elementary school, with its large stone entrance, truncated steeple, and tall marble columns, stands as a monument to education, supporting the proposition that all children can learn at high levels and should be educated to their fullest potential.
My name is Dr. James Murray and I am excited to be the principal of Rowen Elementary School. My commitment is to work hard to lead the school and serve the interests of our students, parents and community. I am confident that together we can reach our collective goals and make our school the best school possible.
We embrace an inquiry-based approach to teaching and learning that is focused on backward curricular and instructional planning with an emphasis on big ideas, knowledge transference, and enduring understandings.
We are also a Character Counts school that has embraced the six pillars of character: trustworthiness, respect, responsibility, fairness, caring, and citizenship.
We aim to leverage the power of social media to improve our communication with our community. Please look for Rowen on Facebook (https://www.facebook.com/rowenschool) and  on Twitter (#rowenschool). Be sure to like us on Facebook and join our Twitter following. We will share critical information through these technologies.
My fervent belief that all children can excel and maximize their potential in life motivates me each day. We have a great and devoted staff. We have hardworking students, supportive parents, and a committed community.
Together, we will make the 2023-2024 school year our best year ever!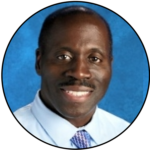 James G. Murray, Jr., Ph.D., Principal